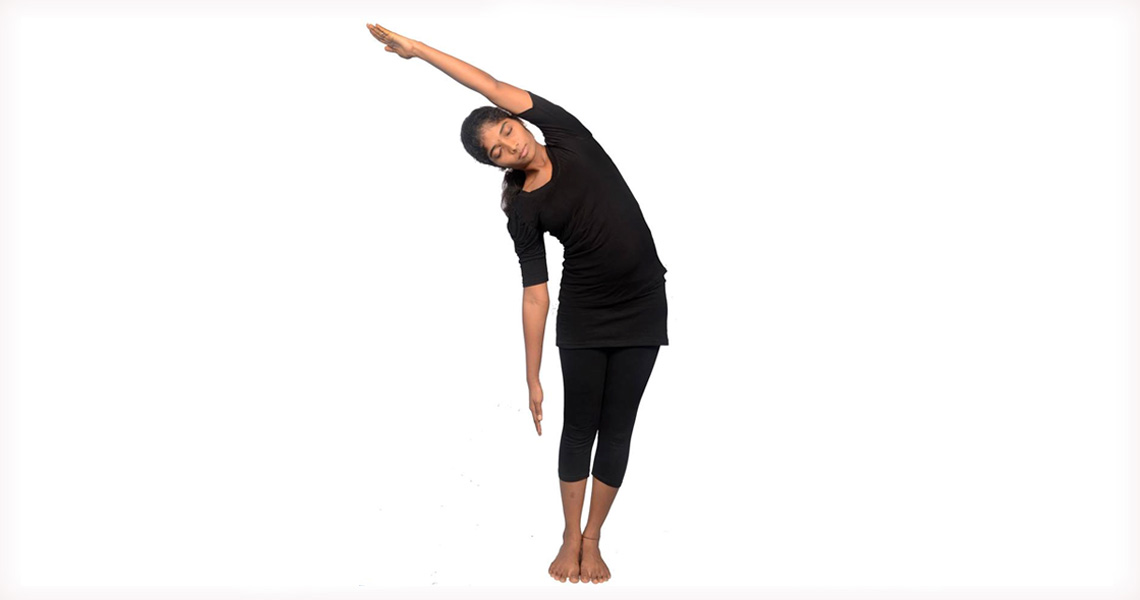 Ardha Kati Chakrasana (Right bending) Half
Welcome to Ashtanga Yoga Collection Project!
At AYA, we are attempting to demystify any secrets and misgivings about Ashtanga Yoga.

The following article will try to provide comprehensive and neutral information from various subject-matter experts about Ashtanga Yoga Postures and Practices. We have called this 'Ashtanga Yoga Collection' Project. This project aims to become a ready-reckoner and a reference for yoga teachers and enthusiasts training in Ashtanga Vinyasa Yoga. Although it is not an open forum, we invite participation from Ajarya Teachers as also yoga teachers from all over the world. All your submissions will be reviewed by our panel before they are published online.
The Procedure:
While inhaling, slowly raise the right arm side ways up.
At the horizontal level turn the palm upwards.
Continue to raise the arm with deep inhalation vertically until the biceps touches the right ear, palm facing the left side.
Stretch the right arm upwards.
While exhaling bend the trunk slowly to the left.
The left palm slides down along the left thigh as far as possible.
Do not bend the right elbow or the knees.
Maintain for about a minute with normal breathing.
Slowly while coming back to vertical position inhale and stretch the right arm up. Feel the pull along a straight line from the waist up to the fingers.
Bring the right arm down as you exhale to Sthiti position.
Come back to Tadasana Sthiti.
Repeat on the left side, by bending towards the right side.
Benefits:
Clear blockages in the lungs and improves breathing.
Improves flexibility of the hips.
Reduces fat and tones the waist.
Clinical Significance :
IBS, Chest congestion, Paradoxical breathing, stress and anxiety, low Lung capacity, Back pain, constipation, piles, post natal conditions, Stroke, Postural imbalances, Life style disorders (Kyphosis, Scoliosis), Thyroid, and Pancreas disturbances, etc.



Precautions:
Those with abdominal and hip injury must avoid this pose Do not bend forward or backward in this pose.
Contributors to Ardhachandrasana Page
The Half Moon Posture has been demonstrated by Ms Niharika Raval, who is a part of YogaArchanam Project at Surendranagar, Gujarat, India, pursuing PhD in Dance
The Ardha Chandrasana Procedure has been provided by Sri Viral Raval, who is a part of YogaArchanam Project at Surendranagar, Gujarat, India, pursuing PhD in Yoga
The limitations and berefits of Ardha Chandrasana have been given by Ms Niharika Raval
The Physiology of Ardha Chandrasana has been designed and provided by Dr E Amaravathi, a Master in Phsiotherapy currently pursuing PhD in Yoga
The Scientific Explanation and Clinical Significance (available only to registered Ajarya teachers) of Ardha Chandrasana has been provided by Dr E Amaravathi
Please write to us if you wish to become a Ajarya Contributor!