The Facility Advantage
At Ajarya, we are focused on helping the trainee get the most out of the Teacher Training Experience
Better Accommodations:
Peaceful accommodations overlooking the hills and verdant nature – not a congested or polluted environment.
Yoga Studio contained withinthe Residential Block – feel free to practice and sharpen your skill at any time without being inconvenienced or feeling unsafe.
Exclusive single room provided with private attached bathroom – Not a dormitory style or shared bathrooms.
Private Balcony with every room for a peaceful sit-out overlooking the Himalayan foothills; something you will cherish during a month long stay
Provision of hot and cold running water.
Open space - Premises have a wonderful garden and a terrace (lunches in the garden are a great bonding time)
Internet Wi-Fi access available at less than $1 a day.
Access to computers in Internet Café also available (Internet charges extra)
Ayurveda Center is located within the premises for those seeking a massage or a treatment.
In all, at Ajarya Yoga Academy, special care is taken to make the stay conducive to learning over a longer period.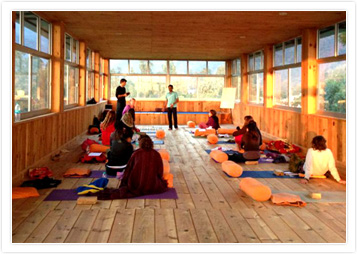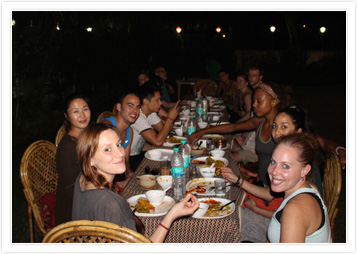 Better Fooding:
A Teacher Training program requires that indiscriminate and unhealthy eating be avoided. Unfortunately, this aspect is ignored by most schools which results in students eating out and often falling sick due to poor hygiene standards.
At Ajarya, we take care to include
3 fresh meals everyday
within the course fee, so that students do not have to worry about where to plan their next meal. Food is strictly
vegetarian
in line with the principles of yoga and
sufficient variety
is added, so that participants can experience different vegetables and fruits of the season.
Food is fresh and made in hygienic conditions,
which minimizes the occurrence of sickness.
This single emphasis on fooding sets Ajarya Yoga Academy distinctively apart as a choice for a study stay.